If you're a business owner and would like to list your business or attraction in our direction, or if you know of a local resource we should list here, please click ADD LISTING and let us know please.
---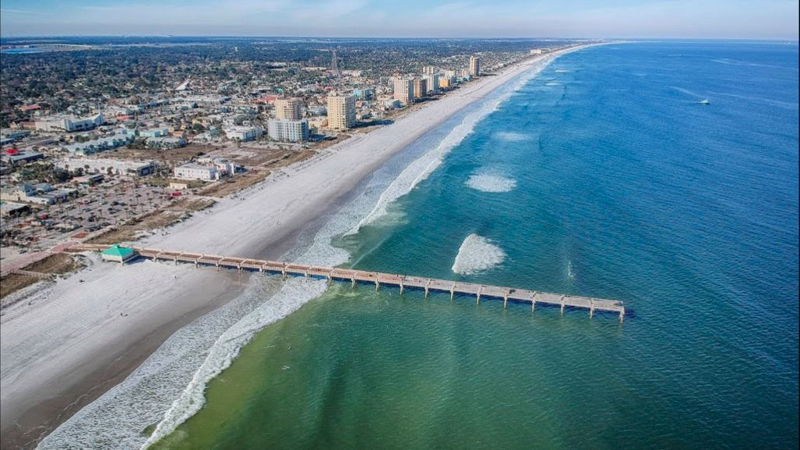 503 1st Street North , Jacksonville Beach, Florida 32250, United States
Located in or serves the following communities
Tagged in the following categories
---
Jacksonville Beach is among the largest and most popular beaches in the Jacksonville area. Lining the beach are various restaurants and bars. There is no driving on this beach and dogs are not allowed. There is no fee to use this beach but parking in the main lot has a fee. If you're a warrior and up for the task, you may find open spaces throughout the neighborhood at no charge. Many spaces do have time limits. There are picnic tables, showers, and public restrooms. This beach is manned by lifeguards.
Jacksonville Beach Pier
The Jacksonville Beach Pier partially re-opened on March 1, 2018. The pier was closed due to damage sustained during Hurricane Matthew in October 2016 and additional damage from Hurricane Irma in September 2017.
The Jacksonville Beach Fishing Pier, nearly a quarter of a mile long* (*approximately 625 ft. is currently open while additional repairs are made to the remaining storm damaged section), offers visitors close up views of the Atlantic Ocean and anglers access to deep-water species of fish. Open from 6 AM to 10 PM, it offers a concession and bait shop, restrooms, and is wheel-chair accessible.
Location:
503 North 1st Street
Jacksonville Beach, FL 32250
Phone: (904) 241-1515
Hours of Operation:
6 AM — 10 PM
6 AM — 7 PM Dec through March
Hours may be adjusted seasonally
Pier Fees & Information:
NO FLORIDA SALT WATER LICENSE REQUIRED
Fishermen: $3.00
Limit: Three (3) fishing rods per fisherman
Carts may be used to transport tackle
Spectators: $1.00
Children: Under 6: Free
CONCESSION SHOP
Bait and tackle available, light snacks and restrooms.
Prohibited
Roller Blades
Surfboards
Bicycles
Pets
Sleeping bags
Fly rods
Hand lines
Cast nets
Shark fishing
Running
Throwing items from the pier
Sitting on pier railings
Jumping or diving from the pier