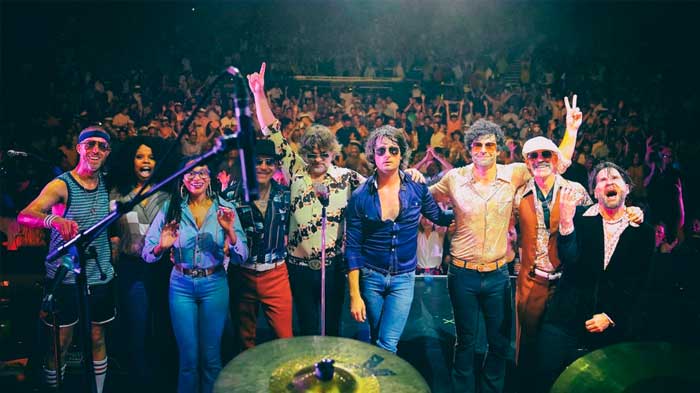 Yacht Rock Revue
What is left for Yacht Rock Revue to prove? This top-notch group of musicians has already rocked onstage with John Oates, Eddie Money (RIP), and both versions of the band Player. They've trademarked the term "yacht rock," both metaphorically and literally (U.S. Registration Number 3834195). From humble beginnings in a basement, touring in partnership with Live Nation and Sirius XM, they now headline sold-out shows across the country, from Webster Hall in New York to the Wiltern in L.A. While rising from bars to amphitheaters, they've ticked every box on the Rock Star Accomplishments bingo card. Except for one: Writing and singing their own songs.
Yacht Rock Revue is hitting the road for a 2022 U.S. Tour criss-crossing the nation for 36 dates over the spring and summer that's sure to leave an inoffensive amount of smooth in its wake. From New York City to Los Angeles and pretty much everywhere in between, the 9-piece ensemble will bring their buoyant take on '70s and '80s soft rock to the masses on a new scale. According to Entertainment Weekly, their shows are "unabashedly joyous affairs."
"We play Hall & Oates, Michael McDonald, Kenny Loggins and Toto with the on-stage energy of Van Halen or AC/DC. Actually don't print that – it's our secret sauce," said YRR singer Nicholas Niespodziani. The hits-packed set list will include a couple of new summer jam singles – one penned by the band and one classic cover – that the band is releasing on streaming services this spring.
"This is our first real tour in almost three years, so we've got a lot of energy built up," Niespodziani said. "We've got new songs, new old songs, new dance moves… plus all the stuff we do that you already know and love." This tour hits iconic venues including Fiddler's Green in Colorado, Wolf Trap in Washington D.C., Pier 17 in New York and two nights of home-field advantage at Chastain Park in Atlanta.
After building an even stronger connection with their fans via multiple weekly at-home streaming shows during the pandemic, the band is ready to melt some faces IRL. "I think the whole world is past-due to get out and f#%king PARTY. And it just so happens, that's our specialty," Niespodziani said.