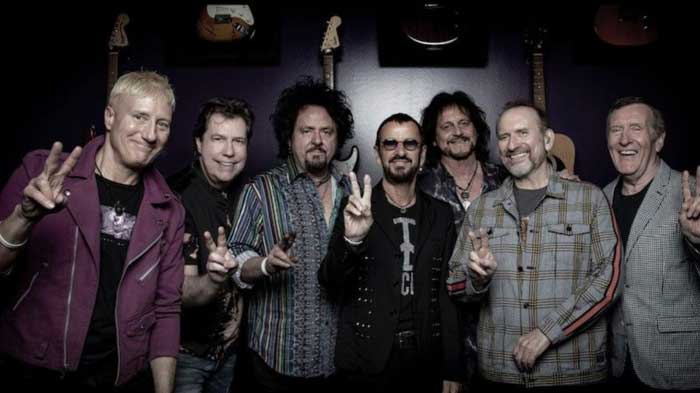 Ringo Starr and His All Starr Band (New Date)
with guest Edgar Winter
---
The Ringo Starr and His All Starr Band performance on June 25, 2021 is rescheduled to June 24, 2022. All previously purchased tickets will be honored at the new date, no new ticket purchase is needed. If you are unable to attend the new date, the deadline to request a refund is May 24, 2022.
(Follow link on this event to the event page for information on how to request a refund)
"This is very difficult for me," said Ringo, "in 30 years I think I've only missed 2 or 3 gigs nevermind a whole tour.  But this is how things are for all of us now, I have to stay in just like you have to stay in, and we all know it's the peace and loving thing we do for each other.  So we have moved the Spring tour to 2022. My fans know I love them, and I love to play for them and I can't wait to see you all as soon as possible. In the meantime stay safe. Peace and Love to you all."
---
ingo Starr has announced details for a North American Tour with his current All Starr Band featuring Steve Lukather, Colin Hay, Gregg Rolie, Warren Ham, Gregg Bissonette, and Hamish Stuart. The tour will begin in Ontario, where Starr has performed many times and launched several previous tours (2001, 2003, 2006, and 2014). The Tour includes a stop at the St. Augustine Amphitheatre on Friday, June 26. Former All Starr Edgar Winter will be the support act.
This announcement comes on the heels of the release of Ringo's 20th studio record, What's My Name. The title track is a rousing anthem written by a returning All Starr Band member Colin Hay that turns a familiar chant from Ringo's live shows into a rousing rocker sure to be a future crowd-pleaser.
The record is the latest in a series of heartfelt and homespun records that Starr has produced in his home studio and a distinguished, ever-changing yet often repeating cast of musical characters and friends playing along with Ringo. Those friends include Paul McCartney, Joe Walsh, Edgar Winter, Dave Stewart, Benmont Tench, Steve Lukather, Nathan East, Colin Hay, Richard Page, Warren Ham, Windy Wagner, Kari Kimmel, and more. Ringo also just released Another Day In The Life, the third in his series of books with Genesis Publications that follows the sell-out success of Postcards From The Boys (2003) and Photograph (2013), and features a previously unpublished collection of his photographs, captioned with his own thoughts and anecdotes.