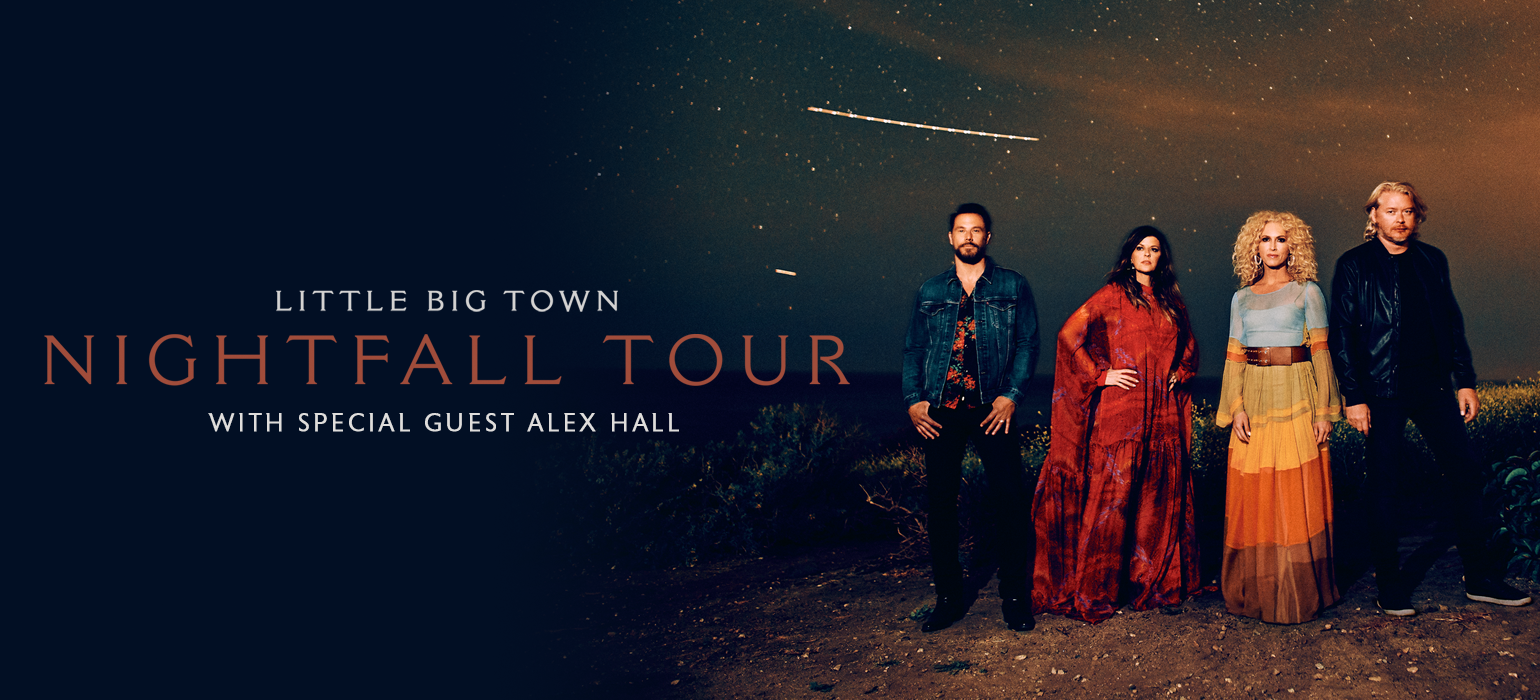 Little Big Town Nightfall Tour
With Special Guest Alex Hall
Little Big Town
GRAMMY, ACM, CMA, and AMA Award-winning group, Little Big Town — consisting of members Karen Fairchild, Phillip Sweet, Kimberly Schlapman, and Jimi Westbrook — first entered the music scene over 20 years ago with hit songs "Boondocks," "Bring It On Home," "Good As Gone" and the GRAMMY-nominated "Little White Church." The bands breakthrough albums Tornado and Pain Killer produced multiple #1 singles, including "Pontoon," "Tornado," and "Day Drinking," as well as the history-making, best-selling country single of the year (2015) "Girl Crush." 2017's, The Breaker, debuted #1 on the Billboard Country Charts and Top 10 (No.4) on the Billboard 200 to critical acclaim. The album features their GRAMMY-winning, multi-week #1 single, "Better Man," as well as the 2019 GRAMMY-nominated, "When Someone Stops Loving You." Critically acclaimed and GRAMMY-nominated "The Daughters," "Over Drinking," and current single "Wine, Beer, Whiskey" are the latest from the bands self-produced ninth studio album Nightfall which was released at the top of the Billboard Country Charts in January of 2020. To date "Wine, Beer, Whiskey" has reached global streams of over 152 Million and I climbing the country radio charts.
Little Big Town has earned more than 45 award show nominations and has taken home nearly 20 awards, including multiple GRAMMY, AMA, People's Choice, CMA, ACM awards, and an Emmy award.
Alex Hall
After picking up an acoustic guitar at the age of 14, Alex Hall quickly set to work learning every Elvis Presley song on the King's ELV1S: 30 No. 1 Hits album – his raw talent earning him his first singing gig at a local restaurant when he was still in middle school. While singing week nights at the restaurant and preforming local shows, Alex captured the attention of a Nashville booking agent, which resulted in about 125 shows a year throughout high school…a feat for any artist, let alone someone still receiving a report card…and a valuable introduction into the country music community. Drawing influence from artists like his hero, Elvis, Keith Urban and Eric Church, along with bona fide rockers like Bruce Springsteen, and John Mayer, Alex has found a way to combine these sounds into his own atomic musical style.
Alex just signed a contract with Sony's Monument Records and is currently in the studio recording his first album with multi-Grammy winner Shane McAnally, Pete Good and AJ Babcock producing.