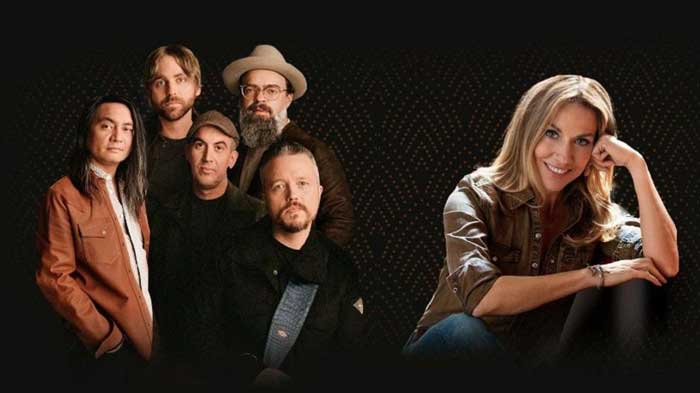 Jason Isbell and the 400 Unit & Sheryl Crow
with special guest Waxahatchee
---
JUNE 

09

THURSDAY –

6:00PM / Gate 5:00PM

JUNE 

10

FRIDAY –

6:30PM / Gate 5:30PM
Please be informed that preventative health measures (e.g. proof of negative COVID-19 test or full COVID-19 vaccination) may be required for this event. Details of any necessary measures will be communicated as early as possible and shared on our website and social media channels.
---
Jason Isbell has established himself as one of the most respected and celebrated songwriters of his generation. The North Alabama native possesses an incredible penchant for identifying and articulating some of the deepest, yet simplest, human emotions, and turning them into beautiful poetry through song. Isbell sings of the everyday human condition with thoughtful, heartfelt, and sometimes brutal honesty. Isbell broke through in 2013 with the release of Southeastern. His next two albums, Something More Than Free (2015) and The Nashville Sound (2017), won Grammy Awards for "Best Americana Album" & "Best American Roots Song". Isbell's song "Maybe It's Time" was featured in the 2019 reboot of A Star Is Born.
His most recent full-length album, Reunions (2020), is a critically-acclaimed collection of ten new songs that showcases an artist at the height of his powers and a band fully charged with creativity and confidence. In April of 2021, it was announced that Isbell would appear in the upcoming Martin Scorsese film, Killers of the Flower Moon.
Sheryl Crow's fresh, updated spin on classic roots rock made her one of the most popular mainstream rockers of the '90s. Her albums were loose and eclectic on the surface, yet generally tied together with polished, professional song craft. Crow's sunny, good-time rockers and world-weary ballads were radio staples for much of the '90s, and she was a perennial favorite at Grammy time. Although her songwriting style was firmly anchored to the rock tradition, she wasn't a slave to it — her free-associative, reference-laden poetry could hardly have been the product of any other era but the '90s. Her production not only kept pace with contemporary trends, but sometimes even pushed the envelope of what sounds could be heard on a classicist rock album, especially her self-titled sophomore effort. All of this made Crow one of the most dependable stars of the decade, and she showed no signs of relinquishing her hard-won success in the new millennium.
Waxahatchee's Katie Crutchfield, a lyricist who has always let her listeners know exactly where she is at a given moment, spent much of 2018 reckoning with these questions and revisiting her roots to look for answers. The result is Saint Cloud, an intimate journey through the places she's been, filled with the people she's loved. This raw, exposed narrative terrain is aided by a shift in sonic arrangements as well. While her last two records featured the kind of big guitars, well-honed noise, and battering sounds that characterized her Philadelphia scene and strongly influenced a burgeoning new class of singer-songwriters, Saint Cloud strips back those layers to create space for Crutchfield's voice and lyrics. The result is a classic Americana sound with modern touches befitting an artist who has emerged as one of the signature storytellers of her time.