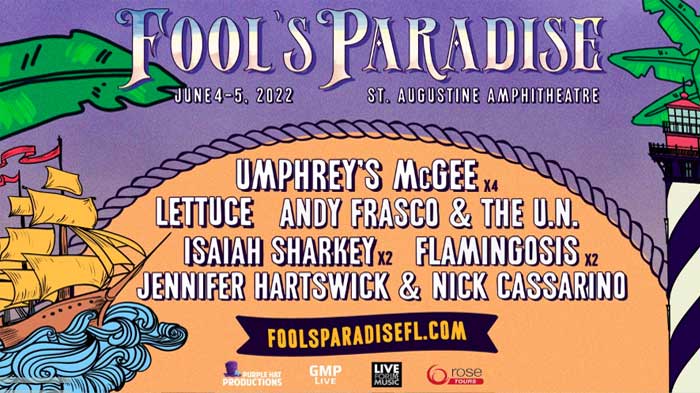 Fool's Paradise ft. Umphrey's McGee, Lettuce, and more
2 Event Dates: Saturday June 4th – 4:00 p.m., Gates open 3:00 p.m.  THEN  Sunday June 5th – 2:00 p.m., Gates open 1:00 p.m.
---
Fool's Paradise is a destination event returning to St. Augustine after a five-year hiatus. The third edition of the beloved funk-fueled weekend will be headlined by prog-rock vanguards Umphrey's McGee and Grammy-nominated funk powerhouse Lettuce. In addition to a diverse and exciting lineup, fans can expect surprise sit-ins, artist-led excursions, and more.
Presented by Live For Live Music, Purple Hat Productions, GMP Live, and Rose Tours, the highly anticipated return of Fool's Paradise will see Umphrey's McGee perform a total of four sets throughout the weekend. Lettuce will also take the stage on both days. Additionally, the two-day event will feature appearances from Andy Frasco & The U.N., Isaiah Sharkey Band (x2), and Jennifer Hartswick & Nick Cassarino, with more artists TBA.