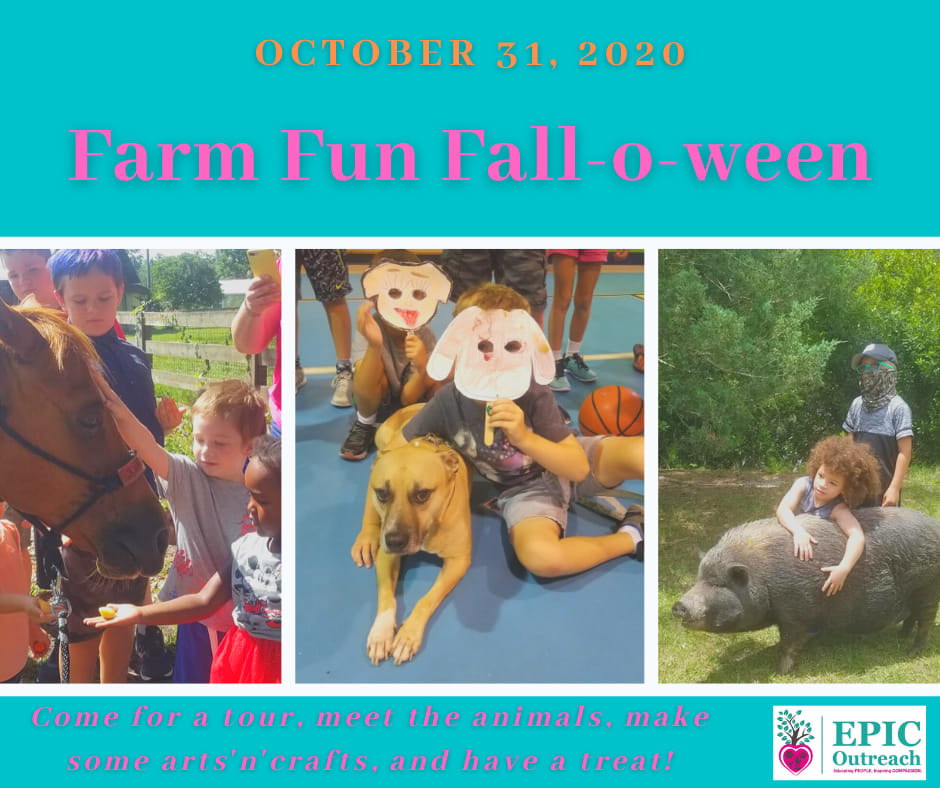 Farm Fun Fall-o-ween! – One Epic Farm
Come to the farm for some Falloween Fun. Enjoy a tour to meet and greet with the farm animals (horses, a pig, donkeys, a bunny, chickens, a mule, a farm dog, and some kitties).
This EPIC event is on Oct 31st and will be an outdoor tour of the farm followed by some holiday themed arts'n'crafts. This event is for kids and adults to enjoy. The recommended age for attendance is 6-13 years for kids (really any age will have fun) and any adult. This is a great way to celebrate Halloween with fun activities in a safe place surrounded by rescued animals and lots of LOVE 
To keep safe practice with social distancing, attendance will be limited to 10 children plus their adult guardians per session. 2 sessions will be held. The first one will be 10am – 12pm and the second will be 1pm – 3pm.
COST: There is no cost, but a $10 suggested donation per child is recommended. For each $25 donation or more you may pick one children's book of your choice (4 to choose from). All donations will benefit EPIC Outreach and all the animals at One EPIC Farm.
RSVP TO ATTEND: Please call 904-274-1177 or email: jessie@epicanimals.org or send a private message to reserve your spot. This event is RSVP as space is limited to 10 children plus their adult guardians per session. Please indicate which session you would like to attend.
LOCATION: On the north side of Jacksonville (zip code 32218). Exact address will be provided once you sign up and confirm your attendance. Space is limited so please RSVP ONLY IF YOU PLAN TO ATTEND! Reserving your spot and then not showing up takes away from someone else not being able to attend and have some fun!
WHAT TO BRING: Closed toed shoes must be worn at the farm. It is recommended that you wear clothes you don't mind getting dirty (it is a farm after all). Bring water and/or something cool to drink, just no alcohol. If you would like something special to snack on feel free to pack a cooler, we just ask that it be vegetarian in nature.
Special Halloween treats will be provided to enjoy after the tour. Carrot treats and apples will be provided to share with the animals. You will get to meet a pig named Oliver, 2 donkeys, a mule, 3 horses, a farm dog, a bunny, some chickens, and some cats. All the animals love attention and have been rescued, so come give them some LOVE 
EPIC Outreach is a humane education outreach organization with an education farm sanctuary that cares for rescued horses, a pig, a bunny, chickens, and a farm dog that all share their stories to inspire compassion and kindness for all animals while also allowing people to connect and engage with them through visits and their stories.
Mission: EPIC Outreach exists to create a kinder world for people, animals, and the planet by inspiring compassion for all things.
Through humane education delivered in a variety of interactive and exciting ways to children and adults in Northeast Florida, EPIC Outreach (EPIC) has been addressing animal cruelty concerns, environmental awareness, and discrimination for both people and animals since 2015. The services EPIC offers generate positive changes and foster compassionate ways of living.