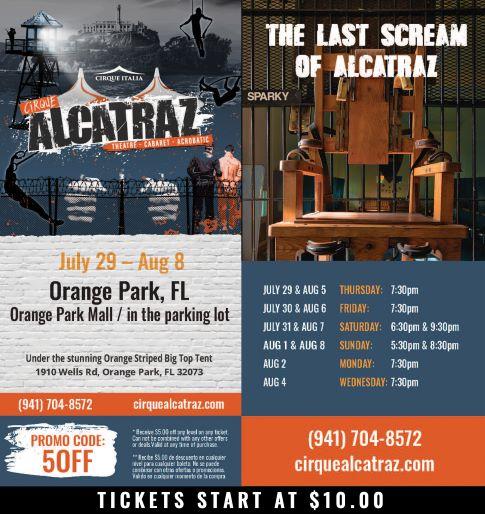 Cirque Alcatraz
Welcome to Alcatraz. We hope you enjoy your stay. Cirque Italia is proud to present its brand-new production, premiering JULY 29 – AUGUST 8 in ORANGE PARK FL, with shows touring through 2021.
Cirque Alcatraz will be taking its audience on a riveting, sensational journey of the true story of one man's real-life nightmare of wrongful conviction and subsequent confinement after being sentenced to life in Alcatraz prison.
In the latest production brought to you by Cirque Italia, audience members will be transported through the eyes of two best friends who inadvertently got caught up in the story.
Since their opening in 2012, Cirque Italia has received national praise and accolades for their unique ability of fusing traditional circus acts with new and unexpected mediums, resulting in sensational Cirque experiences.
Cirque Alcatraz features riveting aerial acts, jaw-dropping stunts, incredible displays of human strength and balance, mystifying illusions, and hilarious comedy while guiding the audience through the narrative.
This production is rated "R" due to the raw content of the story. Although there is no nudity, there is adult language, acts of simulated violence, and suggestive dialogue and situations. We are requiring that any child of the age of 13 and up be accompanied by an adult of 21 years or older. Anyone below the age of 13 will not be granted access.
COVID 19 Information:
Cirque Italia is enforcing all recommendations set forth by the C.D.C. and local municipalities. The safety of our guests and employees are of the utmost importance to us. Every member of the Cirque Italia family is committed to the health and wellness of our fans. As such, we have made certain adjustments and accommodations in order to comply with the safety guidelines set forth by local and state officials. These adjustments and accommodations include some of the following:
 Restricted seating capacity
 Socially distanced seating with visual cues throughout the tent
 Mask mandate for anyone over 3 years of age (available for purchase if needed)
 Increased number of hand sanitization stations in and around the tent
 All common areas wiped down and disinfected every 10-15 minutes
 In order to assist us to better socially distance, please purchase your tickets in advance
 By phone 941-704-8572
 At the on-site ticket office the week of the show
Follow the link on this event to purchase tickets
Show Dates & Times:
-Under the stunning Orange striped Big Top Tent!

· July 29 – August 8
· July 29 – Thursday: 7:30 pm
· July 30 – Friday: 7:30 pm
· July 31 – Saturday: 6:30pm & 9:30pm
· Aug 1 – Sunday: 5:30pm & 8:30pm
· Aug 2 – Monday: 7:30 pm
· Aug 4 – Wednesday: 7:30 pm
· Aug 5 – Thursday: 7:30 pm
· Aug 6 – Friday: 7:30 pm
· Aug 7 – Saturday: 6:30pm & 9:30pm
· Aug 8 – Sunday: 5:30pm & 8:30pm