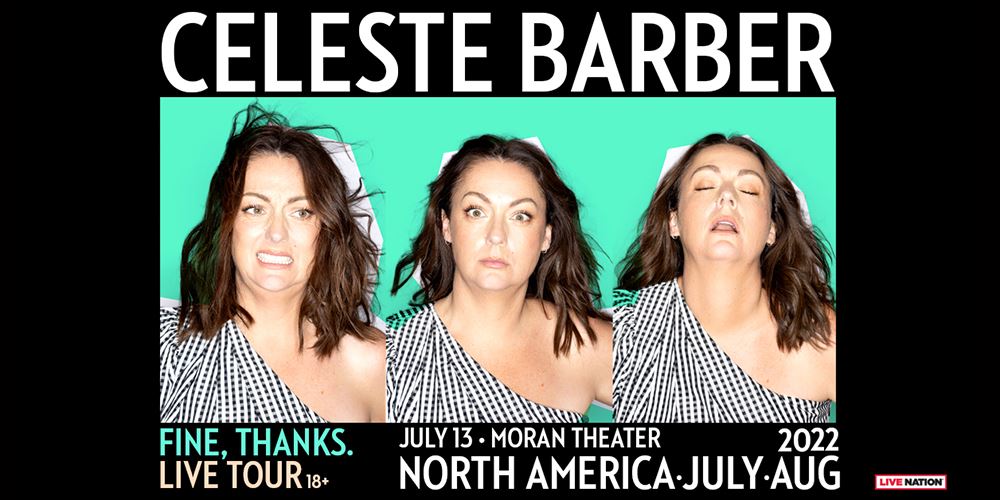 Celeste Barber: Fine, Thanks Tour
Hailed as the "Australian Queen of Comedy", Celeste's original celebrity parody Instagram account has attracted over 8.1 million followers. In 2019 she released her best-selling book Challenge Accepted and she was also seen on the 2019 Showtime Special of the same name. In 2020, she won the AACTA (The Australian Academy of Cinema and Television Arts Awards) for Favorite Comedy Performer of the Decade and in 2021, took out a Webby Special Achievement award. Celeste won the 'Funniest Lady on Instagram' Award 2017 on WhoHaha.com; a digital platform co-founded by actor, director, producer, Elizabeth Banks which showcases women in comedy around the world. In 2019 she was included in Variety Magazine 'Variety's 10 Comics to Watch' and she hosted the 5th Annual Daily Front Row Awards at the Beverly Hills hotel where the best in fashion in Hollywood are honored. She is currently shooting her Netflix Comedy Wellmania, a new comedic drama series based on the novel Wellmania: Misadventures in the Search for Wellness.
---
HEALTH & SAFETY POLICIES
All Policies & Protocols for this event are implemented by the Event Organizer and are subject to change at their discretion. These Policies are not set by the venue.
Will there be required social distancing inside the ASM-Jacksonville Venues?
Social distancing is encouraged where possible.
Seating for this event will be in compliance will State and City laws and guidelines and established by the event organizer.
This event is being sold at Full Capacity
Will masks or face coverings be required?
Subject to compliance with state and local laws or mandates, and based on the needs of the event organizer, masks or face coverings are encouraged but not required inside the venue and should be worn when social distancing is not possible. The mask policy is subject to change based on state and local laws and guidelines and the protocols established by the event organizer.
What cleaning protocols will the ASM-Jacksonville managed venues have in place to prepare for upcoming events?
ASM-Jacksonville will follow ASM Global's VenueShield protocols and have each venue thoroughly disinfected before each event. During events, the venues will be continuously cleaned and disinfected, particularly in high touchpoint areas including, but not limited to handrails, elevator buttons, concession and merchandise countertops and door handles.
What precautions are in place for food and concession safety?
There are plexiglass shields at each point of purchase,
What other health and hygiene precautions will the ASM-Jacksonville venues be taking?
VenueShield signage is installed throughout to remind guests of health, safety, hygiene, and social distancing practices and additional hand sanitizing stations have been installed throughout the venues for guests to use during the event.
The ASM Global-managed venues will be operating in consultation with ASM Global's industry-leading VenueShield program, trusted protection for the live experience. This VenueShield program ensures that ASM facilities are clean and certified at the highest standards for the safety and health of guests, employees and clients. Our doors will be open in compliance with VenueShield protocols and State and City guidelines in addition to customizing those protocols based on the needs of each event organizer to create a safe and fun environment for all guests.