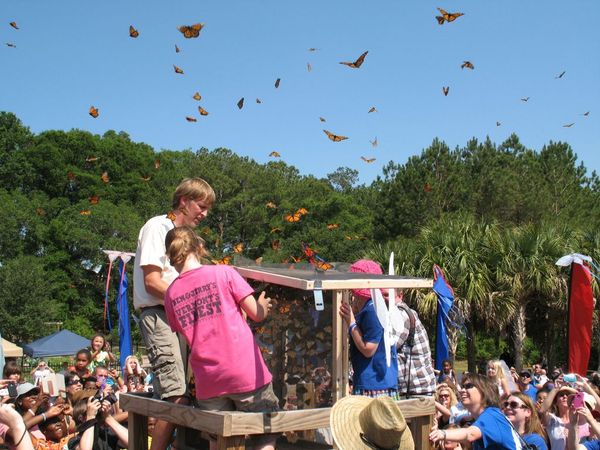 Butterfly Festival @ Tree Hill
This year we are celebrating our 15th anniversary of the festival and are planning for it to be the best year yet.
Each year, Tree Hill Nature Center hosts this unique community event that culminates in a live butterfly release. The event has animal encounters, live music and games as well as crafts and more! We love having local vendors sell their crafts and goods!  This year, for our 15th anniversary, we are highlighting the role that Tree Hill Nature Center plays in promoting local and sustainable foods. Tree Hill Nature Center is home to chickens, goats and many species of pollinators. Eggs from the chickens are used to feed our other animals, such as our opossum, Little Bit, but are also donated to Arlington Community Services' food pantry through the Arlington Community Garden. The goats and chickens provide compost for our plants around the property and in the community garden. Did you know you can come to Tree Hill anytime and pick up our finished compost for your own garden?  The community garden was established in 2010 and has provided over 3,000 pounds of fresh food to the food pantry. We have begun the expansion of our goat habitat and have plans to expand the chicken pens to allow for more residents and more exhibits. Tree Hill Nature Center serves as a model for hobby farm enthusiasts and is excited to be expanding on that work.
Are you interested in helping with the 2016 Joseph A. Strasser Butterfly Festival? 
This year we will have an area for giant Jenga. Our boards are already cut, but we need someone to paint them for us. Are you interested in helping us paint the boards?
We are looking for vendors who can do demonstrations. Are you a business or non-profit who does glass bowling? milks goats or sheep? makes jam? We want you to help educate the public about the valuable skills you posses!
Are you an artist or do you enjoy drawing? We need you to help us with our face painting area for the children (and adults!) on the day of the Festival.
If you're interested in any of these opportunities or have a question please get in touch with us at 904-724-4646 or info@treehill.org. Hope to see you there!