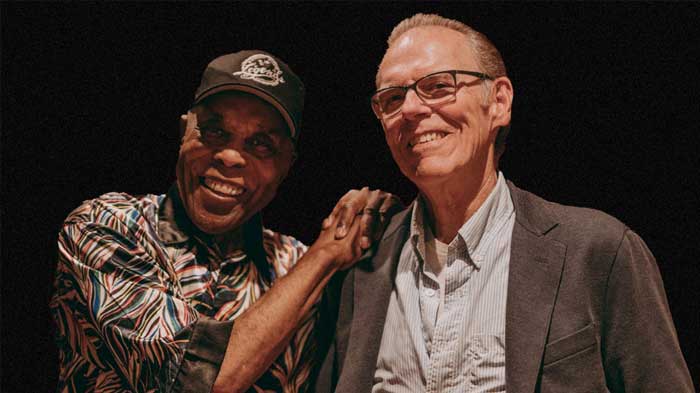 Buddy Guy and John Hiatt & The Goners featuring Sonny Landreth
John Robert Hiatt is one of America's most respected and influential singer-songwriters. "You know how writing goes for me, "John Hiatt says, offering a glimpse into his creative process."I get a couple of lines going, and then I just tag along as the songs start to reveal themselves. You've just gotta jump inside and take the ride." Hiatt has been on that ride–as have we all, tagging along right beside him–for more than four decades now. In fact, since the release of his 1974 debut, Hangin' Around the Observatory, rarely has more than a year or two passed without a new Hiatt collection hitting the shelves. Since 2000 he's been on a remarkable late-career run, releasing nine acclaimed studio albums and embarking on numerous tours in the U.S. and abroad.
The title of Buddy Guy's latest album says it all: The Blues Is Alive and Well. The legendary blues artist's eighteenth solo LP and follow-up to 2015's Born to Play Guitar showcases his raw and unadulterated sound, its fifteen tracks a true pleasure for aficionados and genre newcomers alike. "I got children and grandchildren who didn't know who I was, but nowadays we can play outdoor concerts and see kids that are eight, nine, twelve years old coming to me and saying, 'I didn't know who you was, but I read what Eric Clapton said about you,'" Guy explains when discussing his mindset around the new record. "I'm always trying to make an album that someone accidentally plays where some kid hears it, picks up a guitar, and helps keep the blues alive."
And it only takes one listen to The Blues Is Alive and Well to realize that Guy's mission has been more than accomplished here. The record is arriving on the heels of a spate of high visibility for the 83-year-old performer: at the 2016 Grammys, he picked up a trophy for "Best Blues Album" honoring Born to Play Guitar, and that same year he hit the road for a U.S. tour opening for Jeff Beck. In addition to bringing the house down fora recent sold-out performance commemorating the closing of New York City's B.B. King's Blues Club and Grill, he recently appeared on David Letterman's Netflix talk show My Next Guest Needs No Introduction. A truly restless and energetic performer, The Blues Is Alive and Well is the latest triumph in an already-legendary career.
And even as Guy pushes forward with his astounding career, he's careful not to forget his late contemporaries who inspired him along the way. "I went to sleep yesterday and woke up and all the great blues players are no longer with us. Muddy, Wolf, B.B.—they're all gone. Before they passed away, when they were in their prime, we used to have a drink and a laugh and talk about how when one of us is gone, the others have to keep it going. I'm trying to do something to keep this music that I love so well alive." And with The Blues Is Alive and Well, it's clear that the music—and Guy himself—ain't going away anytime soon.